Dear All,
Steve Jobs once said, 'Innovation distinguishes between a leader and a follower,' and that statement has never been more meaningful than it is today. 'Innovate or perish' is not only a reminder to the business sector, but a wakeup call to the educational fraternity as well.
In this age of rapid transformation, where human life is being influenced by phenomenal changes all round, education remains 'unaffected', unfortunately. It's high time our schools focus on creating 'the change makers of tomorrow', by developing in our schools "a culture of innovation, based on collaboration, interdisciplinary problem solving and intrinsic motivation".
AtNehru Smarka Vidyalaya we strive to provide an education that meets the needs of all children. We offer a wide and varied curriculum taught by enthusiastic, talented staff. We acknowledge that academic success is not something all students find easy; however our goal is to have all our students realize their potential. With this in mind, we endeavour to provide programmes that meet the needs of all individuals.
At all times students at NSV are encouraged to think positively about what they have achieved. This climate ensures students feel good about themselves and celebrate not only their own, but, the achievements of others. This attitude is reinforced by the school's "Steps for Success," which is our curriculum and underpins everything we do.
When appointing staff, our highest priority is to find teachers who have a passion for teaching and who love working with children. This is because we believe children need to feel safe, happy and valued by their teachers, before quality learning can take place. Education is not all about what the learners know, or need to know, it is more about preparing them to do what they need to do with what they know.
We promote the philosophy that academic success is not enough to meet the needs of today's students. We encourage involvement in sport and the arts, because we firmly believe students in today's world need skills to express themselves, be it on the sports field or through music and drama.
We are extremely lucky to have a spacious attractive environment. In fact we believe our infrastructure and facilities are the best in the city to meet children's intellectual and physical needs.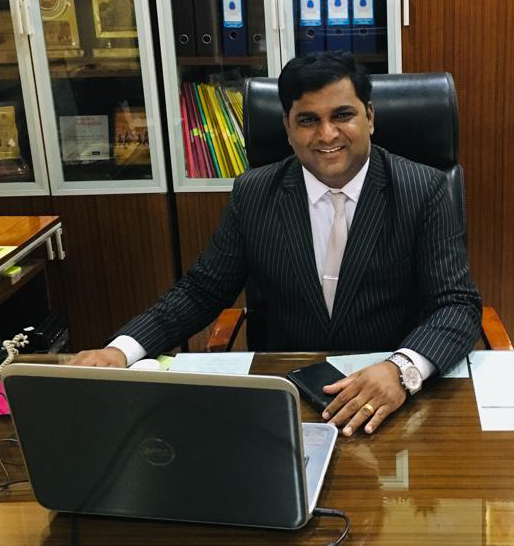 Dr. Anil Kumar T
PhD in Education, MA, B.Ed., BBM, B.Ph., BTh, DSM
Principal
Bangalore International Academy